Cast: Ratna Pathak Shah, Konkona Sensharma, Aahana Kumra, Plabita Borthakur, Vikrant Massey, Sushant Singh, Shashank Arora, Jagat Singh Solanki, Sonal Jha
Director: Alankrita Shrivastava
Music: Zebunnisa Bangash, Mangesh Dhakde
This movie was touted to be the flagbearer of feminism. With its 'in your face' propaganda and its revolt against the much hated (for sincere movie watchers) CBFC, this one was on our must watch ever since we heard about it. Especially, when a much talked about movie is directed by a debut woman director, one's expectation tends to soar sky high. Finally, when the movie saw the light of the day it was not any less than the middle finger shown to the detractors. Whether it was able to make the statement it had marched out to, still remains a question.
Lipstick Under My Burkha is a story of four women from different generations living in an overcrowded settlement in Bhopal. Buaji/Usha (Ratna Pathak Shah) is a middle-aged widow who owns a business and some rented houses in the area. She is necessarily the matriarch everyone looks up to. Shireen (Konaka Sen Sharma) is a mother of three who is an ambitious sales girl (on the verge of being promoted) but has been reduced to a baby making machine by her husband (Sushant Singh). Leela (Aahana Kumra) is a beautician who has big city dreams but her plans never seem to find fruition. Rihana (Plabita Borthakur) is the college going kid who is dying to find her voice, quite literally, from behind her burkha. Apart from these characters, we have Leela's lover played by Vikrant Massey, Sonal Jha as Leela's mother, Shashank Arora as Rihana's boyfriend and Jagat Singh as Buaji's swimming coach.
What worked for the movie was perhaps a few of its scenes that tried to bring out the characters as individuals who wanted to either break free or were trying to rediscover themselves. Buaji's scene where she is trying to remember her name, Usha (since she's been Buaji for so many years), is one particular scene that makes you empathize with her and her lost identity. Rihana's full blown "Jeans ka haq, jeene ka haq" was a slogan that stuck out particularly making the movie show short-lived sparks of greatness. Leela selling off her bike, which necessarily was a symbol of her freedom, was another eye damper. Shireen's failed attempt to reach out to her husband and share the news of her promotion was something we can totally associate with. The movie may have set out to create an image of some path-breaking slogans, yet it never resurrects itself on its own.
What pulls the whole movie down are the sex scenes. All these scenes were tasteless in every way, devoid of any human emotions. What the heck, they were plain crass, to say the least- shot in the most tactless way. We may give some benefit of doubt to the director due to the various cuts that made the narrative jump from one scene to another. Nevertheless, the four main protagonists never came out of the shadow of their character to make them their own. Brilliant actors like Ratna Pathak Shah and Konkana Sen Sharma failed to bring out their own credibility to the characters they portrayed. The intersecting stories of the ladies was more superficial than profound, which it essentially begged for. The menfolk in the movie were mere props to symbolize misogyny and had rare opportunity to bring out the faults with their own characters. The mutual connect between the main characters is not evident barring one or two abrupt sequences, that should have brought out the soul of the subject. When the platter is large and there are mini portions of a zillion things, you really can't decide how each of the morsels tasted.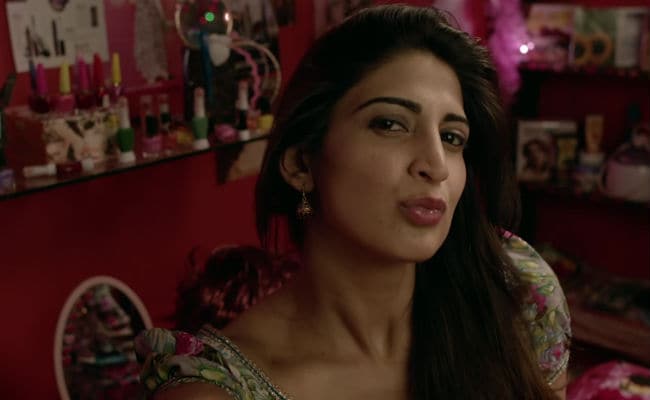 Yes, patriarchy needs to fail. Yes, feminism needs a chance. Yes, we all must speak about it. Yes, we all must learn to surface from injustice. Yes, the women have a right to explore and express their sexuality. Yes, women's voice must be heard and acknowledged. Shouting slogans from roof-tops may not be the way chosen by the makers to raise this concern. But the women will not even find their voice passing around a fag and smoking rings in the face of the society, either. Even though the movie never attempts to find solutions (which is okay, by the way) but it never even creates a statement. It looks and sounds like a cheap flyer we are handed out on railway stations.
What could have been a brilliant attempt at using art to announce to the world that women are breathing, living, fantasizing, dreaming, passionate human beings, turns to be an inane attempt at glorifying the everyday struggles of women. Alankrita succeeds in making a meme of a subject that is so close to the heart of millions of women in the country. In the end, it's as good as the cheap, tactless, directionless and tasteless novels Buaji reads to let go of her fantasies.
Completely underwhelmed by this experience!
Here's a preview of what to expect:
Join us on Facebook and 

Twitter

 for more of Movie Massala